A project of the FJMC
Suggestions for Increasing Engagement
Winter 2015  Issue No. 2
What is FJMC Keruv? In Our Own Words...   The FJMC KERUV Initiative is about Welcoming, Accepting, and creating Jewish families. It is a journey of understanding how the various pieces of the puzzle fits together.  The more we learn, the more our efforts are modified and change. This initiative composed of volunteer men and women is available to rabbis and synagogues who wish to work with us. Some congregations have affiliated FJMC clubs. Others don't.
We have been engaged in this process since 1998. More than 250 Rabbis and recently Cantors have participated in our 24-hour clergy think tanks. Approximately 200 lay people have attended our 2-3-day lay training seminars. Keruv is related to but not connected with conversion. Keruv is concerned with what we believe is the most pressing issue in the 21st Century for North American Jewry. This is our passion. 
The KERUV Initiative is FJMC's gift to the Conservative Movement.  This is the second of three newsletters designed to provide congregational decision makers with tools to increase welcoming, expand consciousness, and assist you to strengthen your communities.
Charles Simon, February 2015
Ideas to Take out of the Box
Carl Wolkin, Beth Shalom in Northbrook, Illinois, learned and implemented the following from Mordecai Waxman at Temple Israel in Great Neck, NY. They taught their congregants the importance of sheloshim by encouraging mourners to attend Shabbat morning services approximately thirty days after the death of a loved one. At that time they read the names of the people who were observing sheloshim just prior to the reading of the Yartzheit list. Over a period of years the congregation learned to attend services on that Shabbat morning.
Roli Matalon and Marcello Bronstein ask all who volunteered, attended a meeting or gave tzedakah to stand for a special for a special misheberach every Shabbat morning. This delivers a powerful message.
Adam Watstein, who requires b'nai mitzvah students to read Torah the Thursday morning prior to b'nai mitzvah, has the minyanaires to surround the young man or young women, who is carrying the Torah prior to returning it to the Ark. They surround him/her joining arms and sing Torah, Torah, followed by an enthusiastic mazal tov. They call this the Torah hug. It adds energy and joy and memory to the minyan.
Welcoming Techniques
Joshua Kohn, Chair, FJMC KERUV/INTERMARRIAGE Initiative
Creating a welcoming environment entails more than simply having "Greeters" at the door. In order to be successful it involves thinking about each and every entry point of congregational life. And remember, everything that occurs in a congregation is a welcoming point. What follows is a description of the ways congregations make themselves more welcoming. It is followed by three ideas that could be employed in any congregation. Each has the potential to have a lasting impact.
When reading them, imagine the gestalt of all three of them if they are all integrated into one congregation after one has considered the implications of both culture and infrastructure. The first example focuses on how to build Shabbat morning service attendance, the second how to deliver an important and often overlooked message to the congregation on Shabbat morning and the third focuses on a way to add joy to the Thursday morning minyan. The last section adds another piece to the puzzle and how the clergy should be positioned.
Our Steps to Improve Community
In the past decade, Temple Beth Hillel-Beth El of Wynnewood, PA has transformed itself from a synagogue that was not known as welcoming to a synagogue that is among the most forward thinking and welcoming in the Western Philadelphia suburbs. When I am discussing our synagogue with prospective members, there are two angles that are both equally important to communicate - infrastructure and culture.
Infrastructure - A potential new member needs to see certain things to know that they will be welcomed, especially as a non-traditional family. We have changed the bylaws to include family membership for interfaith families. We publish ALL Mazels in our bulletin. We let interfaith families know that their entire family will be on the Bimah for their life cycle events. And we just recently formalized our acceptance and support for same-sex marriages in our sanctuary.
Culture - That infrastructure lays the groundwork for welcoming, but we can only be a successful synagogue if we have a culture where people want to join. We have created bonds among families from the local day school and the religious schools through class Shabbat dinners. We have two rabbis who confidently speak from the pulpit about inclusion and acceptance. And we have significant demographic diversity on our board and advisory committees.
We are building our community literally one family at a time. That is how synagogue loyalty is built. 
What are our Strengths?
I am constantly amazed and impressed with how far the Conservative movement has come over the past decade. But I am also still surprised and disappointed that our message has not reached enough of the greater community at large. Websites, Facebook, Twitter do matter. When people look for a synagogue, they need to know loud and clear what are the core values it embraces in more detail than "egalitarian, warm, …."
I had a discussion with a prospective member the other night, who expressed his concerns to me very clearly, before I even got a chance to speak. "I am in my low 30's, married to a Catholic, with two kids below the age of 5. Someone told me you were a good person to talk to. I know I can't come to your synagogue because it is Conservative, but do you know of any communities where my family could find a home?"
On the one hand, I was very upset with his misperception that my synagogue could not provide him what he is looking for. On the other hand, it was a chance to educate him, and offer him the opportunity to see what my synagogue was all about.
As the conversation continued, I explained very clearly to this man why I am here. In my prior community in suburban NYC, on the first day we arrived, the cantor introduced herself to us, followed by the rabbi. Without hesitation, when I described my family, the rabbi put his arm around us and told us that he wanted us to be here. He told us there weren't many like us (yet), but things were changing. And he was right.
I am more committed to the Jewish community today because I am intermarried, not despite the fact that I am intermarried. My goal is help create an environment where when this man and his family walk in to our community, which they want to join, and will relay that message to others.
Step 1 is getting the word out. Step 2 is backing up our words with actions.
Positioning the Clergy  Parents of adult children are often afraid to approach the clergy person when they learn their child is about to marry someone from another religious tradition. Some are embarrassed, others believe they have failed as parents. These deep seated feelings need to be countered proactively because, after all, these are our members, our friends, and families and we want to do everything possible to encourage their children to live meaningful Jewish lives. One way of preventing our members from experiencing these feelings is a letter from the clergy to the entire congregation simply indicating that the clergy wants them to understand that their children are their children. In the event they live outside of the community and come for a special occasion that you wish to meet them, and their partners or the current men or women with whom they are having a relationship because you care about them. More than forty years of data clearly indicates that relationships with clergy, once established, can last for decades.
FJMC Keruv Program
The FJMC Keruv initiative is based on a lay/professional partnership.  FJMC brings together groups of rabbis and most recently Cantors to learn and to think about the issues that are occurring in their communities and within their member families. With the help of academics who study the dynamics of intermarriage, participants are challenged to examine how they respond to synagogue members and their children when intermarriages occur.
Rabbis and Congregational Presidents are invited to recommend a man and a woman to be trained as FJMC Keruv consultants. During the course of a weekend of training, these volunteers are taught to partner with their clergy and to provide strategic support to their fellow congregants. In addition these Keruv consultants are provided with a support network including an on-line Library, and an annual weekend of additional training. Since one size cannot fit all each rabbi/lay team devlops their own plan to address community needs. 
Are you signed up for The Unraveller,  a weekly commentary devoted to explaining the haftarah and other aspects of Jewish history, ideas and thought? The material provides a historical and somewhat different approach to help you, the reader, better understand Jewish life and thought. We hope you enjoy it and find it intellectually challenging.
   Click on the Unraveller logo below, to sign up.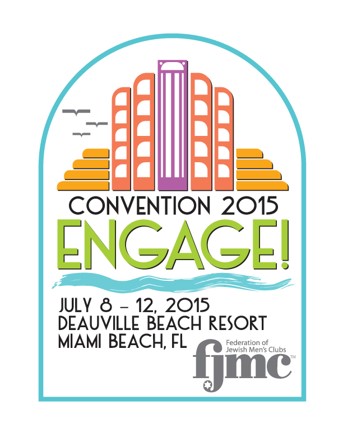 To learn even more about Keruv and a bunch of other things, come to Convention 2015. Click on the convention logo to the right to find out more about the biennial FJMC convention.
More Tools:
2.
Is conducting a workshop for your teachers on Sensitizing Teachers Who Work with Children in Interfaith Families on your agenda?
If not contact: Lynne Wolfe
lwolfe@fjmc.org
Creating a Welcoming Website, click here
The FJMC's Keruv On Line Resource Library, click here
For Additional Information

Harvey Braunstein, Keruv Coordinator  assets00@aol.com

Rabbi Charles Simon, Exec Dir FJMC  Rabbi@fjmc.org

New Book

"Engaging the Non-Jewish Spouse:  Strategies for Clergy and Lay Leadership"

by Rabbi Charles Simon, and available at the FJMC Store