A project of the FJMC
Suggestions for Increasing Engagement    Spring 2015  Issue No. 3
What is FJMC Keruv? In Our Own Words...   The FJMC KERUV Initiative is about Welcoming, Accepting, and creating Jewish families. It is a journey of understanding how the various pieces of the puzzle fits together.  The more we learn, the more our efforts are modified and change. This initiative composed of volunteer men and women is available to rabbis and synagogues who wish to work with us. Some congregations have affiliated FJMC clubs. Others don't.
We have been engaged in this process since 1998. More than 250 Rabbis and recently Cantors have participated in our 24-hour clergy think tanks. Approximately 200 lay people have attended our 2-3-day lay training seminars. Keruv is related to but not connected with conversion. Keruv is concerned with what we believe is the most pressing issue in the 21st Century for North American Jewry. This is our passion. 
The KERUV Initiative is FJMC's gift to the Conservative Movement.  This is the last of three newsletters designed to provide congregational decision makers with tools to increase welcoming, expand consciousness, and assist you to strengthen your communities.
Charles Simon, May 2015
IDENTIFYING AND MAXIMIZING ENTRÉE POINTS
Synagogues are composed of numerous entrée points. The challenge for a synagogue leader is how to identify and maximize them. Too often, the obvious ones are overlooked.
Maximizing the Obvious ones:
1. The Nursery and Talmud Torah: Yes it's obvious and it's important that the clergy are not only present but know the names of all the children. Many successful clergy people make a point of being present when the children arrive and depart. It's not enough to wander through the halls or step into a classroom on occasion. Know your kids. Be there!
2. The affiliates: (Men's and Women's groups) these two groups should be your sales team - the interface between the congregation and the community. Provide them with appropriate language about the congregation's mission. Engage them, explain the congregation's goals and ask how they can be of assistance. Listen to them and learn what they perceive the synagogue's difficulties might be.
The Not So Obvious
1. The Committees: Exciting committee meetings can draw and engage people. The education committee has the potential to create social gatherings of school parents. Serve some wine, cheese and fruit. Ask a members of the congregation to speak about a topic of interest to parents several times a year, like texting, dress codes, peer pressure, bullying, etc. and all of a sudden a relatively unassuming committee is transformed into the most exciting event some chocolate cake was invented. The same model could apply to adult education, social action committees, youth activities and of course the ritual committee. (drum beat)
2. The daily Minyan: Ask yourself who attends the minyan and who would we like to attend? 
Is the minyan friendly? 
Are greeters available? [Greeters are different than Ushers.  Ushers enforce decorum, while Greeters welcome new people, give them guidance if they are unfamiliar to the service – telling page numbers, guidance when to stand and when to sit, offering tallit or tefilin to those who may not have brought, etc.]
What can one do to enhance the sense of community? 
If one considers the minyan as a programming opportunity one shouldn't have to struggle to maintain it. 
The Least effective entrée points are public events. The story is told of a congregation in Florida that spent a million dollars in programming in one year. They engaged major speakers and musicians with worldwide reputations. Every concert, every lecture was filled to capacity. They didn't gain a member and shortly afterwards went out of business.
The Most Common:
The Friday evening and Shabbat morning services are often viewed as the venues for "welcoming." These services are often hosted by "greeters". The role of the greeter is usually not well defined and as a result, "greeters" actually serve as "ushers".  In order to be an effective greeter, one must be given a script, an elevator speech which explains the nature of the congregation and why people should become more engaged. In order to maximize a greeter's utility, they should need to be empowered to greet and meet people at the oneg and kiddush. After all, that is the place where social engagement occurs.
A number of congregations have also engaged and empowered their leaders, Board members as well. They are often highlighted / identified by wearing a blue wristband, a name-tag or a button that says, "Ask me about the congregation".  This certainly helps.  A possible new member shouldn't have to search to determine who to ask a question they may have about your congregation.
Another great opportunity is the Shabbat dinner or Shabbat luncheon. Too often, newcomers attend these events and don't know where to sit. They are ignored because people tend to sit with their friends. In order to maximize this opportunity, a number of people could be designated to leave two empty seats at their table and to look to invite people to join them. It's easy. It's a small thing but it goes a long way.
FJMC Keruv Program
The FJMC Keruv initiative is based on a lay/professional partnership.  FJMC brings together groups of rabbis and most recently Cantors to learn and to think about the issues that are occurring in their communities and within their member families. With the help of academics who study the dynamics of intermarriage, participants are challenged to examine how they respond to synagogue members and their children when intermarriages occur.
Rabbis and Congregational Presidents are invited to recommend a man and a woman to be trained as FJMC Keruv consultants. During the course of a weekend of training, these volunteers are taught to partner with their clergy and to provide strategic support to their fellow congregants. In addition these Keruv consultants are provided with a support network including an on-line Library, and an annual weekend of additional training. Since one size cannot fit all each rabbi/lay team devlops their own plan to address community needs. 
Are you signed up for The Unraveller,  a weekly commentary devoted to explaining the haftarah and other aspects of Jewish history, ideas and thought? The material provides a historical and somewhat different approach to help you, the reader, better understand Jewish life and thought. We hope you enjoy it and find it intellectually challenging.
   Click on the Unraveller logo below, to sign up.

More Tools: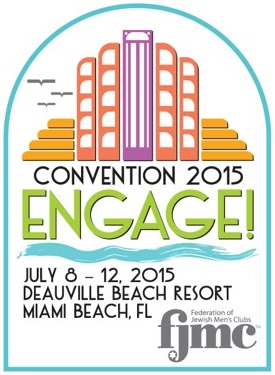 1. If you want to learn more about KERUV/INTERMARRIAGE come to the FJMC Convention July 8 – 12, in Miami Beach, Florida!  Click on the convention logo to the right to find out more about the Biennial FJMC Convention.
2. Is conducting a workshop for your teachers on Sensitizing Teachers Who Work with Children in Interfaith Families on your congregation's agenda? If not contact: Lynne Wolfe lwolfe@fjmc.org
For Additional Information

Harvey Braunstein, Keruv Coordinator  assets00@aol.com

Rabbi Charles Simon, Exec Dir FJMC  Rabbi@fjmc.org

New Book

"Engaging the Non-Jewish Spouse:  Strategies for Clergy and Lay Leadership"

by Rabbi Charles Simon, and available at the FJMC Store