January 24, 2015  /  4 Shevat 5775

---

This Unraveller is sponsored by Israel Tour Connection. ITC is a recognized leader in Jewish Travel!  We specialize in innovative synagogue, group, family, Christian and custom travel programs to Israel, Europe (including Spain, Turkey and Morocco!!) and Cuba.  ITC offers a complete range of services worldwide.  Our reputation is built on excellence & serving you.

​
Parashat 

Bo
Jeremiah 46:13-28
​
This Haftarah represents the first of a series of prophecies against Egypt and the first of a group of declarations against foreign nations. They are found in Jeremiah 46-51. Each of these chapters begins with the phrase, The word of the Lord to the prophet Jeremiah concerning the nations. The Haftarah for Bo is unusual because it mentions Nebuchadnezzer (also referred to as Nebuchadrezzar), as the instrument of Egypt's punishment. It hints at a relationship which becomes more developed in Ezekiel, and in the some of the stories in the book of Daniel, where Babylon begins to be viewed as the eventual tool for our people's return.
Jeremiah strongly counseled the leaders of the Kingdom of Judah not to engage in an alliance with Egypt. His counsel was disregarded and the Egyptians were defeated by Nebuchadnezzer in the fourth year in the reign of King Jehoiakim of Judah in 604 B.C.E.
This incident took place prior to the Temple's destruction, yet it foreshadows the future relationship between Babylon and Israel. Babylon might have been the instrument of Israel's destruction, but it will also become God's tool and means of providing redemption.
The Haftarah is linked to the Torah portion through language and metaphor. Just as Moses comes (Bo) and supplicates himself before Pharaoh, Nebuchadnezzer comes in judgment against Pharaoh. Just as the Torah refers to the Egyptians being plagued by locusts, the Haftarah understands the population of Egypt to be as numerous as locusts. In spite of their numbers, they will be shamed and handed over to the people from the North. The Haftarah concludes with an admonishment. We will be punished for our transgressions but we will not be abandoned.
What message can this reading impart to us? If we take a leap and listen to the message as if it were being delivered to a person or to a family in lieu of a nation, does Jeremiah have anything to say to us?
When life appears to be bleak and we feel overwhelmed by outside pressures, the prophet challenges us to find courage. Life for so many of us rarely requires courageous acts; we are so far removed from living on the edge. When did you last need to be courageous and when was the last time you needed to help a person find the necessary courage to make a difficult decision? Having courage, being courageous is linked to having faith and to belief in one's self. If we don't remember where we left our courage, perhaps this morning's Haftarah can help us find the way.
This week's Haftarah commentary is reprinted from one that was written for the Unraveller on January 23, 2010 by Rabbi Charles Simon, Executive Director of the FJMC and author of numerous books, including "Understanding the Haftarot. An Everyperson's Guide" and "The Non-Jewish Spouse: Strategies for Clergy and Lay Leadership". [Both of these books are available in the FJMC on-line store.
---
This week's Unraveller is sponsored in honor of Steve Davidoff's 77th birthday (January 3, 2015) and the 64th anniversary of his Bar Mitzvah from Congregation Adath Jeshurum, Elkins Park, PA.  Sponsorship was also by Marvene and Donald Like.
---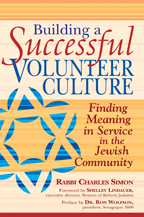 With Pesach quickly approaching, its not too early to start thinking of ways to enrich your Seder.  Passover, the Family Guide to Spiritual Celebration, part of the Art of Jewish Living Series, is an excellent resource, and should be part of your Passover library.  Click here to purchase from the FJMC Store.  And as long as you're preparing to enhance the celebrating where Moses shows his leadership abilities, you can enhance your leadership skills with Rabbi Simon's book on Building a Successful Volunteer Culture, also available at the FJMC Store.
---
​​​

In 2015, the World Zionist Congress will be meeting in Israel. It meets every four years. The number of delegates that each Jewish organization receives is dependent on its membership. In order to ensure FJMC has as large a delegation as possible, we'd urge you to join Mercaz, the Zionist Organization of the Conservative / Masorti Movement. A link that will take you to the membership signup page is below. [Issues of the Unraveller will alternate between the USA and Canadian links.]



---